Benefits of a Managed Portfolio
Managed Portfolio is the easiest way to fill a gap in your portfolio with private renewable energy investments.

Automatic Diversification
Benefit from investment opportunities across geographies and asset types in the Developing World.

Reduced Minimums
Invest in multiple assets at a substantially lower minimum compared to investing in individual assets.

Dependable Cashflows
Renewable energy investments are annuity style investments. The cash flow is locked in typically over 7 to 20 years.
Why Renewable Energy Assets?
We help you diversify your asset allocation with private renewable energy assets to create a more efficient portfolio and improve your risk-adjusted returns.
The Benefits of Investing with Distributed Energy
Managed portfolio participants invest alongside institutional investors and DE executives who have together committed millions of dollars to date.
15%+
Target Net IRR for Selected Investments to Date
7-20 years
Average Length of Investment
4-6%+
Client Diversification Available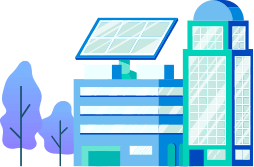 Impact Investing
Investing with Distributed Energy is an opportunity to have a meaningful impact in the real world.
Environment Friendly
We focus on investments in solar rooftop, which enables traditional industries to change their power source to clean energy.
Aligned with UN SDGs
We meet the criteria for multiple UN Sustainable Development Goals by helping investors invest in public goods.
Developing World Centric
We focus on investments in India, East Africa, and the Middle East, where access to capital for renewable energy is low.
How does it work
As experienced platform aggregators, we match credible renewable energy projects with investors. Energy customers will have their fundable projects listed on our marketplace but only after we've screened and performed a comprehensive due diligence on various aspects of the project. With a Managed Portfolio, we do the heavy lifting for you by allocating your capital investments appropriately around your pre-defined criteria. Talk to us, to find out more.