Chitaura Small Hydro Power
Muzzafarnagar, India.2020
8 years
Break Even Period
4.1 X
Target total return
35 years
Target investment period
Chitaura Small Hydro Power
Muzzafarnagar, India.2020
8 years
Break Even Period
4.1 X
Target total return
35 years
Target investment period
Energy Customer – State's Primary Power Corporation
Energy Customer is based in India, and is involved in the business of transmission and distribution of power from conventional and non-conventional sources of energy in Uttar Pradesh.
Currently seeking funding to deploy a canal-based hydro power project on The Ganga River in Chitaura, Uttar Pradesh for the Energy Customer – the State's Primary Power Corporation. The proposed project is a means to support the Corporation in supplying reliable, cost efficient and clean energy to meet the energy requirements of business owners and household communities in the area.   Based on the proposed installation capacity, the system cost is $4,985,732.
A total of 6000 KW can be installed and we are quoting for the same. The hydro power plant will be constructed under a BOOT model. The lease duration is 35 years and cost per unit is $0.02 without change for the full lease period. Annual generation from the project is 45,390,000 units.
Power Purchase Agreement
How do distributions work?
The Power Purchase Agreement (PPA) has been signed with the State's Primary Power Corporation and parties involved agree to a hydro power lease for the full lease period. The lease period is 35 years and the degradation of the asset is 1% per annum. The total investment percentage by the Energy Customer is nil. The maximum investment amount is $4,985,732.
Once the solution design is approved and arrangement of finance is finalised, the procurement of materials is initiated, followed by installation and commissioning of the project. A detailed timeline showcasing the breakdown of milestones and deadlines will be provided to the relevant parties.
Why Invest?
The proposed project has a 14.9% return on investment with a target total return of 4.1x and break-even period of 8 years. In addition to this, the Energy Customer, is the State's Primary Power Corporation, meaning there will be a reliable and healthy flow of energy consumption. From a clean energy mobilisation perspective, percentage savings over time are substantial as a result of this project implementation.
| | |
| --- | --- |
| Amount | % Saving |
| $13,940,282/- for 1-7 years | Avg 43.28% |
| $15,742,121 /- for 8-14 years | Avg 46.06% |
| $17,615,760/- for 15-21 years | Avg 48.70% |
| $19,570,043 /- for 22-28 years | Avg 51.21% |
| $21,614,181 / – for 29 -35 years | Avg 82.92% |
Investment Profile
Hypothetical Investment
$4,985,732
Total Returned
$20,586,537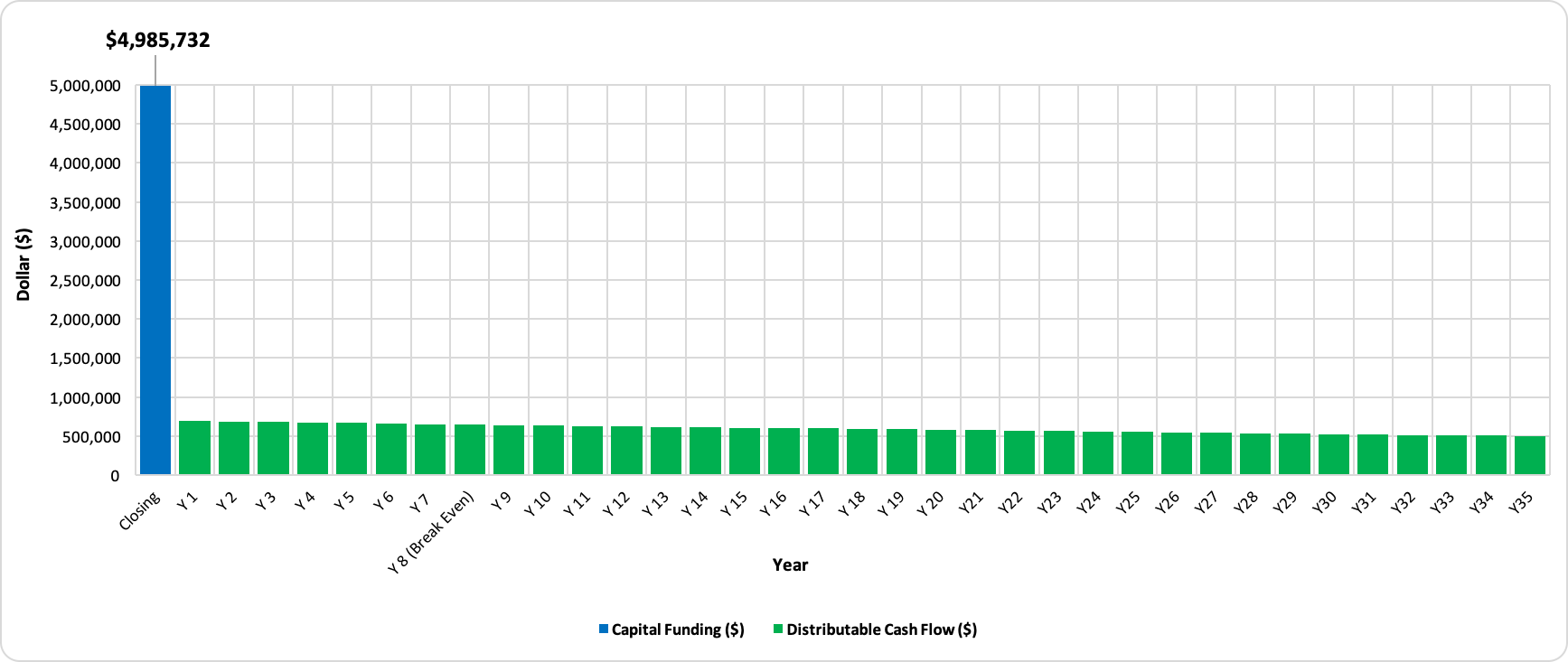 *Note : All calculations and data presented are deemed to be accurate, but accuracy is not guaranteed. The projected pro forma IRR are intended for the purpose of illustrative projections to facilitate analysis and are not guaranteed by Distributed Energy or its affiliates and subsidiaries. Actual returns on investment may vary depending on tax, insurance and other increments.